45 Smolensk
A downloadable game for Windows
Reconstruisez Smolensk et développez la ville !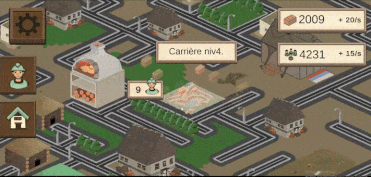 Vous incarnez le maire de la désormais détruite ville de Smolensk en URSS juste après la fin de la seconde guerre mondiale.
Reconstruisez la ville petit à petit en récoltant des briques et en améliorant vos bâtiments ! Recrutez des habitants spécialisés pour faire grandir la ville encore plus vite et faire de Smolensk un endroit accueillant !

Ce jeu a été fait en 3 semaines par :
Leyna Amies - Buildings artist
Louise Vandeweghe - UI & Character artist
Victor Gournay- Map artist
Gabin Bastard - Game Design
Naël Goulam - Game&Sound Design
Mattéo Benaissa - Programmer

A l'école Pole 3D, Roubaix, France.
Made with Unity
Comments
Log in with itch.io to leave a comment.
Le jeu est très fun, bravo !
Très bon jeu, bravo pour la performance !