Protect The Baby
A downloadable game for Windows and macOS
Haven't you ever dreamed to be a good father ?


In this game, you will have to protect a baby from strange people who want to attack him. To fight and protect the baby, you will get a pistol which allow you to shoot at ennemies and one hook which will grab the baby and take it back to you, but it can also grab other stuff !

There were two themes for the jam: limited colors and pixel art only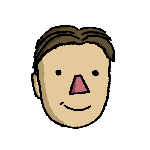 Install instructions
Download the zip file
Place it in a folder
Right click on the zip > Extract Here
Double click on the .exe file
You might get an antivirus warning, but I can assure you there isn't a single one.